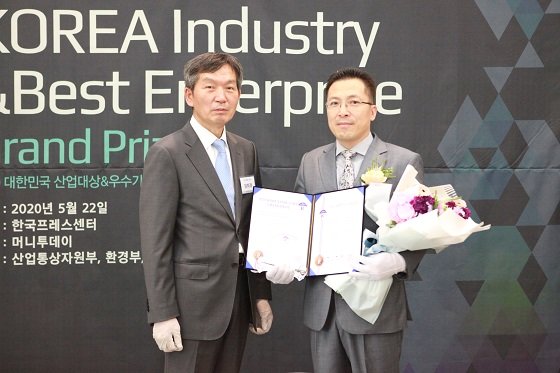 CEO Sung-ho Han (right side in the picture) is taking a commemorative photo with Money Today executive director Hee-kyeong Jeong after winning the "K-Medical Award" for "4 consecutive years" at the 2020 6th Korea Industrial Awards hosted by Money Today at the Korea Press Center on the 22nd.
The Korea Industrial Awards are given to companies that innovate in various sectors of the industry and display outstanding management skills, and thus are awarded to companies that have achieved innovation in each field, companies with excellent management skills, and companies with global competitiveness. At the awards ceremony on this day, AdipoLABs (CEO Sung-ho Han) won the grand prize for four consecutive years, drawing attention.
AdipoLABs Co., Ltd. is a company that makes high-frequency medical equipment with pure Korean technology, including REMISSION 1°C, a high-frequency Hyperthermia, and ADIPO-7000D, a high-frequency treatment device. In particular, REMISSION 1°C is a medical high-frequency hyperthermia licensed by the Ministry of Food and Drug Safety(KFDA) in October 2015 for cancer treatment and has many cases of improvement in cancer patients.
REMISSION 1°C has a number of improvement cases including cholangiocarcinoma patients presented in SCIE class papers, metastatic breast cancer patients introduced in the Korean Society of Thermal Medicine (KSTM), patients suffering from severe lymph node edema after breast cancer treatment, and the complete cure of pancreatic cancer patients who were unable to operate.
The CEO of AdipoLABs Sung-ho Han, who won the Korea Industrial Awards at the K-Medical Awards, expressed his ambition to strengthen his company-wide competency in developing and investing in products and to become a leader in medical devices for cancer treatment.
[이 게시물은 (주)아디포랩스님에 의해 2020-05-29 17:08:17 PR Information Data에서 복사 됨]
---