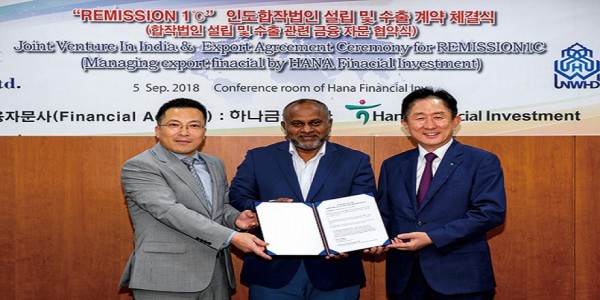 AdipoLABs CEO Han Sung-Ho (left), president of Hana Financial Investment Lee Jin-guk, and United World Halal Development Chairman Mohamed Jinna joined MOU for Joint Venture in India
Medical devices manufactured with domestically developed technology are attracting attention not only in Korea but also abroad. AdipoLABs, which is committed to the research and development and production of high-frequency medical devices, entered the Middle East and Islamic countries with the Halal certification for the first time in Korea.

AdipoLABs developed its own high-frequency hyperthermia cancer treatment device (REMISSION 1℃) based on the data applied to the treatment of high-frequency obesity and the development of medical devices for pain relief. AdipoLABs and domestic thermotherapy(hyperthermia) and immunotherapy specialists have developed a cancer treatment protocol using REMISSION 1℃ and applied it to patients to produce effective results for cancer treatment.
REMISSION 1℃ has a mechanism of necrosis of cancer cells weak to heat by generating deep heat through high-frequency energization in the human body, and activates immunity as body temperature rises. In October 2015, it was licensed as a high-frequency hyperthermia cancer treatment device to treat cancer by the Ministry of Food and Drug Safety(KFDA). In May 2018, AdipoLABs received the Halal certification for the first time in Korea. Successfully they acquired RoHS, Shariah Compliance, USFDA registration and ISO13485 for European market.

AdipoLABs' last year's trust in the international medical device market is brightening its prospects for a broader market in 2019. In May last year, AdipoLABs signed an MOU with United World Halal Development (UNWHD) to export REMISSION 1℃ to India. In September of the same year, a joint venture for REMISSION 1℃ was established and an export contract was signed. In addition, they participated in international exhibitions in India, Uzbekistan, China, Malaysia, and Russia, and received many export inquiries, resulting in export contracts, overseas certifications, and overseas media reports.
Last year, there was an evening dinner held on the first day of the `` Middle East Asia Business Fair 2018 Seoul '' event. The congratulatory address was Dr. Oxymed Hospital, Director of Chennai India AYAS AKBAR delivered a review of treatment with REMISSION 1℃. He thanked AdipoLABs for his late breast cancer patients for three weeks of treatment used REMISSION 1℃ and found that the large cancer cells had diminished.

한성호 대표가 2018 방콕 한국 우수상품박람회에 VIP로 참석했다

4개국 8개 관련 회사 대표 등이 수출 협약식을 진행했다
In the domestic market, REMISSION 1℃ is being supplied to many hospitals. Starting in January 2019, it was sold to Catholic University Seoul St. Mary's Hospital, one of the five major hospitals.
Han Sung-ho, CEO of AdipoLABs, who won the 4th Korea Industrial Awards for the second consecutive year, the New Technology Award, the Korea Development Contribution Award, and the 4th Industrial New Technology Achievement Award, the Korea Economic and Cultural Contribution Award, said that "We have experienced the happiness of delivering hope to many cancer patients in Korea, and we will aspire to actively enter not only domestic but also overseas cancer treatment device market in 2019.
AdipoLABs also attended numerous exhibitions including the Arab Health Exhibition and Congress 2019 held in late January and the KIMES 2019 (35th Korea International Medical & Hospital Equipment Show) in March. The company is concentrating its capabilities to visualize the sales of the REMISSION 1℃ by inviting key personnel and buyers from India, Malaysia Thailand and Middle East Countries.
​

[이 게시물은 (주)아디포랩스님에 의해 2019-12-18 17:08:21 PR Information Data에서 복사 됨]
---