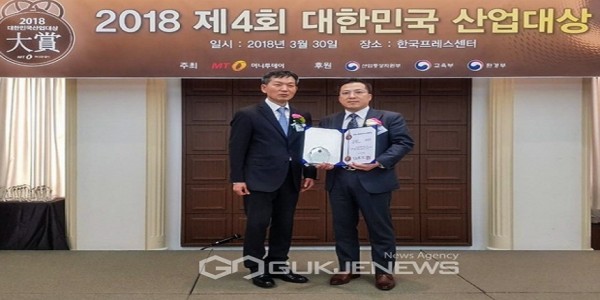 ▲ Representative Han Sung-ho (right) of AdipoLABs is taking a commemorative photo after receiving the Grand Prize of New Technology at the 2018 Korea Industrial Awards. (Photo: Reporter Min Kyung-chan)
(Seoul = International News) Reporter Min Kyung-chan = AdipoLABs received the Grand Prize for New Technology for the second year in Korea.

AdipoLABs (CEO Han Sung-ho) received a new technology award which is given to the companies with global competitiveness and excellent management capabilities by innovating in various industries at the '2018 4th Korea Industry Awards' ceremony held in the press center in Jung-gu, Seoul on the 30th.

AdipoLABs is a company that makes hyperthermia high-frequency medical devices based on pure domestic technology such as 'REMISSION 1°C' and 'ADIPO-7000D'.

In particular, ``REMISSION 1°C'' is a device that uses a high frequency of 0.46MHz to the human body to generate deep heat inside the body and necrotize the cancer cells that are weak to heat. In October 2015, the Ministry of Food and Drug Safety in Korea issued a license of cancer treatment to REMISSION 1°C at AdipoLABs and since then, we have seen many cases of improvement on cancer patients.

'REMISSION 1°C' improved patient with cholangiocarcinoma and the case was published on SCIE papers. It also improved lymphatic metastasized breast cancer patients as described in KSTM. REMISSION 1°C improved patients with severe lymph gland edema after breast cancer treatment as well. There have been many positive cases of cancer treatment, including a tough patient with stage 3 pancreatic cancer.

In addition, recently published journal of the Korean Society for Thermal Medicine (KJTM) has also confirmed that the activity of natural killer cells (NK Cell) that necrotize cancer cells and enhance immunity was clearly evident among 26 patients that were tested.

AdipoLABs recently conducted export consultations with Vietnam and Iran, and showed great potential for entering the overseas market, drawing attention from domestic and foreign officials at special seminars and booths of 2018 KIMES.

Han Sung-ho, CEO of AdipoLABs, who received the grand prize of new technology, said, "We will strengthen our company's capabilities and continue to be a leader in cancer treatment medical devices."

---