[Money Today's Small-Medium BIZ Cooperation Team Reporter Yoo-mi Lee] [[2020 Korea Industry Awards] 4th consecutive year, K-Medical Award]
AdipoLABs (CEO Sung-ho Han), a medical device specialist, is busy themselves for supplying its hyperthermia device for the treatment and prevention of COVID-19.
'REMISSION 1℃' developed by this company is a high-frequency based hyperthermia. It is a medical device that creates a body environment that can kill cancer cells. It energizes the human body to generate deep heat to activate NK (natural killer) cells.
'NK cells' are representative immune cells that can compete with cancer cells. This is why ' REMISSION 1℃' can be used for other treatments besides anti-cancer. It is able to fight various viruses by increasing immunity with 'NK cells'.

The company said, "We are actively discussing whether we can introduce REMISSION 1℃ in the prevention and treatment of COVID-19 through consultation with medical staff." We are looking forward to optimistic feedback. "

At the same time, AdipoLABs is preparing for 'after COVID-19'. After the corona pandemic is lifted, it is predicted that it will stand out in the overseas market. It's not a confidence they have developed overnight. Since 2018, they have taken aggressive strategies to secure export channels.

It has been registered by the U.S. Food and Drug Administration (FDA) and certified by Shariah (Islamic Law), and Halal certification. And they have started to advance globally in 2018. The main targets are the ASEAN New South and Middle Eastern countries, which have a large Muslim population. In 2019, the export contract to China was achieved. In Korea, more than 100 hospitals, such as Seoul St. Mary's Hospital, are already using 'REMISSION 1℃'. In 2015, it was certified as the first medical device for cancer treatment by the Ministry of Food and Drug Safety(KFDA).

AdipoLABs has been focusing on 'hyperthermia treatment' since its establishment. The company finds the meaning of 'one well management(Focusing on one main goal; Korean proverb)' that is devoted to 'hyperthermia' in the book 'Aporism' by the pioneer of medicine 'Hippocrates' .In the aporism, he said that all diseases can be treated with fever.


AdipoLABs said, "Even at this moment, people are suffering from incurable diseases somewhere." "We dream of a world that can be free from all pain." He added, "We are looking forward to great exports this year. We will become a company that leaps forward in the global market if COVID-19 Pandemic passes."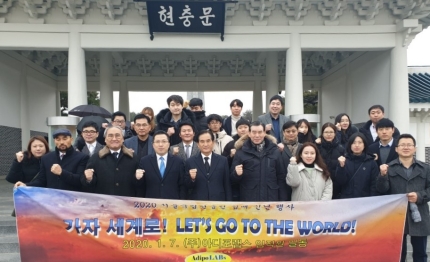 AdipoLABs employees have a visit to Seoul National Cemetery, and they are strengthening their will to promote the status of the nation as an 'Excellent Export Company' / Photo from AdipoLABs
---