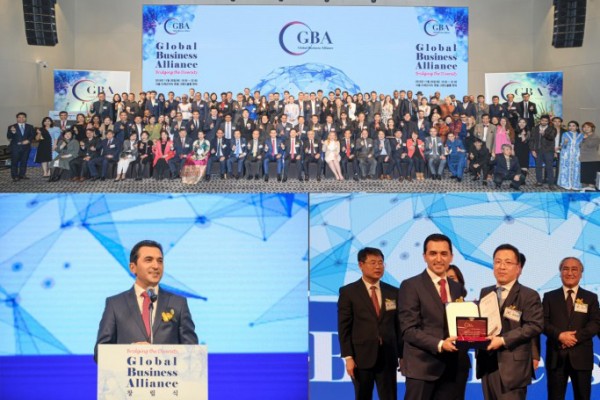 Founding Memorial Photo (top). CEO of AdipoLABs, Han Sung-ho (right) received a GBA letter of appointment for senior vice president from chairman Shinan Oh (left)
On November 26th, the founding ceremony of the Global Business Alliance (GBA) was held in Yongsan Dragon City Grand Ballroom, Seoul, with more than 700 international and domestic guests attended.
The Global Business Alliance (GBA) is a global business platform that enables leading Korean companies to launch their products in more than 100 countries. Chairman Oh Shinan, the first chairman of the GBA, expressed his aspirations to contribute to the global expansion of many domestic and foreign companies based on his experiences of failure and success.
AdipoLABs' Han Sung-ho is the senior vice chairman and the professor of Soongsil University, Lee Ki-wang has been appointed as the vice-president. The GBA is composed of more than 30 promoters.
In addition, AdipoLABs' REMISSION 1℃ was selected as the first excellent product at the ceremony. Representative Han Sung-ho expressed his feeling that "I am pleased to introduce REMISSION 1℃ at the meeting of the world's leading business partners."
AdipoLABs, a manufacturer of high-frequency medical devices, has launched REMISSION 1℃ in more than 20 countries around the world with Chairman Oh Shinan since 2018. Already, it has signed contracts with the representatives from countries such as Romania, Tunisia, Cameroon, Bangladesh, Egypt, and Ghana. AdipoLABs has achieved a great deal of success in exports so far.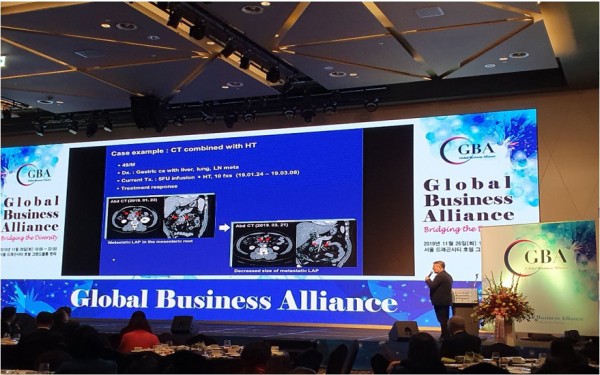 Dr. Hong-Seok Jang of the St. Mary's Hospital explaining about hyperthermia treatment (Picture)
The ceremony was also celebrated by domestic and foreign figures. Congratulatory speeches by mayor of Seoul, Park Won-soon and former UN Secretary-General, Ban Ki-moon were followed by the welcoming speeches from former Senator, Kim Duk-ryong and the head of Yong-san gu office, Sung Jang-hyun.
REMISSION 1℃, which was introduced as an excellent product that day, received cancer treatment equipment license from KFDA in 2015. A special lecture by professor Jang Hong-suk of Seoul St. Mary's Hospital on the case and efficacy of cancer patients attracted the audience as well.
The distinguished guests who attended the founding ceremony promised a hopeful vision with strong desire to enter the global market with excellent Korean companies. In one voice, they said out loud what Mr. Han has said which was 'Together into the world.'
Han Sung-ho, senior vice chairman, said, "I expect many Korean companies to fulfill their dream of entering the global market with the establishment of GBA."
---