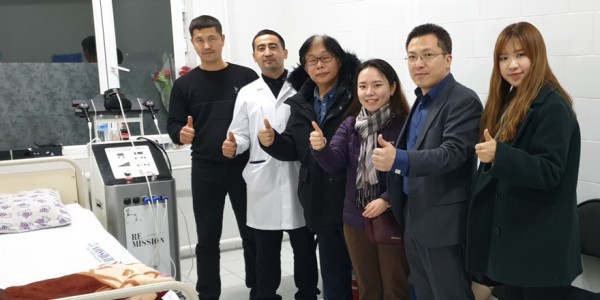 From the 22nd to the 25th of November 2019, CEO of AdipoLABs, Han Sung-Ho visited Uzbekistan with employees from Ehls. A year ago in November 2018, Han Sung-ho and staff of AdipoLABs, along with Choi Il-bong, chairman of Korean Society for Thermal Medicine, have accepted the invitation letter from Uzbekistan and visited the Uzbekistan Congress and Gulistan National Cancer Center to share the information about current treatment of hyperthermia medical device, REMISSION 1℃.
High frequency hyperthermia medical device, REMISSION 1℃ is a specialized medical device that treats cancer while energizing high frequency to the human body to generate deep heat inside the body. REMISSION 1℃ minimizes the pain and side effects while curing cancer at the same time.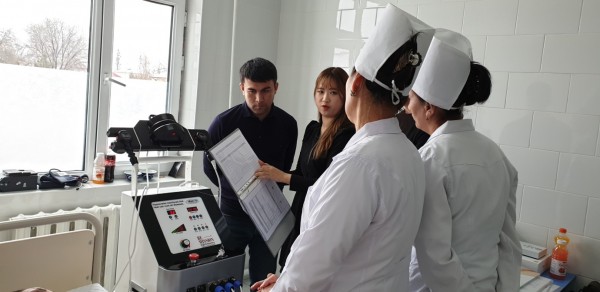 AdipoLABs educates medical staff at a hospital in Jizzakh(Picture)
The day after the arrival, despite of jetlag, Han Sung-Ho, other executives, and the staff members all visited the Regional Medical Association of Zarbdor District Hospital in Jizzakh, to communicate and discuss about the principles of treatment, treated cases, and the results of patients in domestic hospitals. In the evening, along with Deputy Mayor of Jizzakh and the hospital director, AdipoLABs' employees held a meeting to explain the excellence of REMISSION 1℃.
At the hospitals AdipoLABs has visited, there were vivid education and live explanation about the experience of REMISSION 1℃ and its rubbing procedure for patients with nephropathy, hepatitis, and diabetics. Explanation about pain relief and minimizing side effects was followed as well. Many patients were curious about new cancer treatments, treatment time, frequency, and improvement afterward.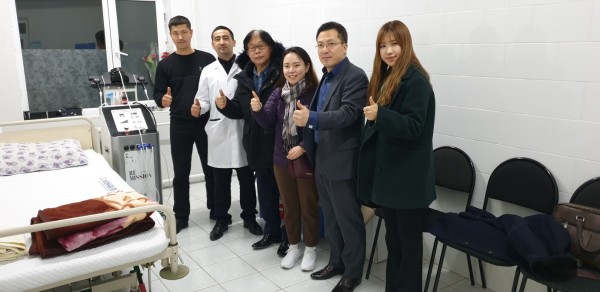 Through 50 hospitals in South Korea including Seoul St. Mary's Hospital, REMISSION 1℃ was widely distributed in domestic market of Korea, helping many to collect abundant treatment cases and clinical results. This became an opportunity to understand about REMISSION 1℃ and provide a proper training session to treat the patients and answer their questions.
The patients who had suffered from brain tumors and breast cancer who participated in the procedure were able to have hope through treatment with REMISSION 1℃. The representatives from AdipoLABs then moved to Tashkent and visited state hospitals to provide training on treatment methods and procedure.
Han Sung-ho, CEO of AdipoLABs, said, "We have had time to help international medical personnels to fully understand and be explained about REMISSION 1℃ based on the results of treatment cases so far at this tough time for sales." "Now, we have secured a bridgehead for overseas expansion in the markets of India, Malaysia, Thailand, Singapore, Russia, Philippines, and China. This will help us take another step of significant progress towards the global sales with aggressive marketing when we obtain CE certification at the end of 2019." said Mr. Han with confidence.
---